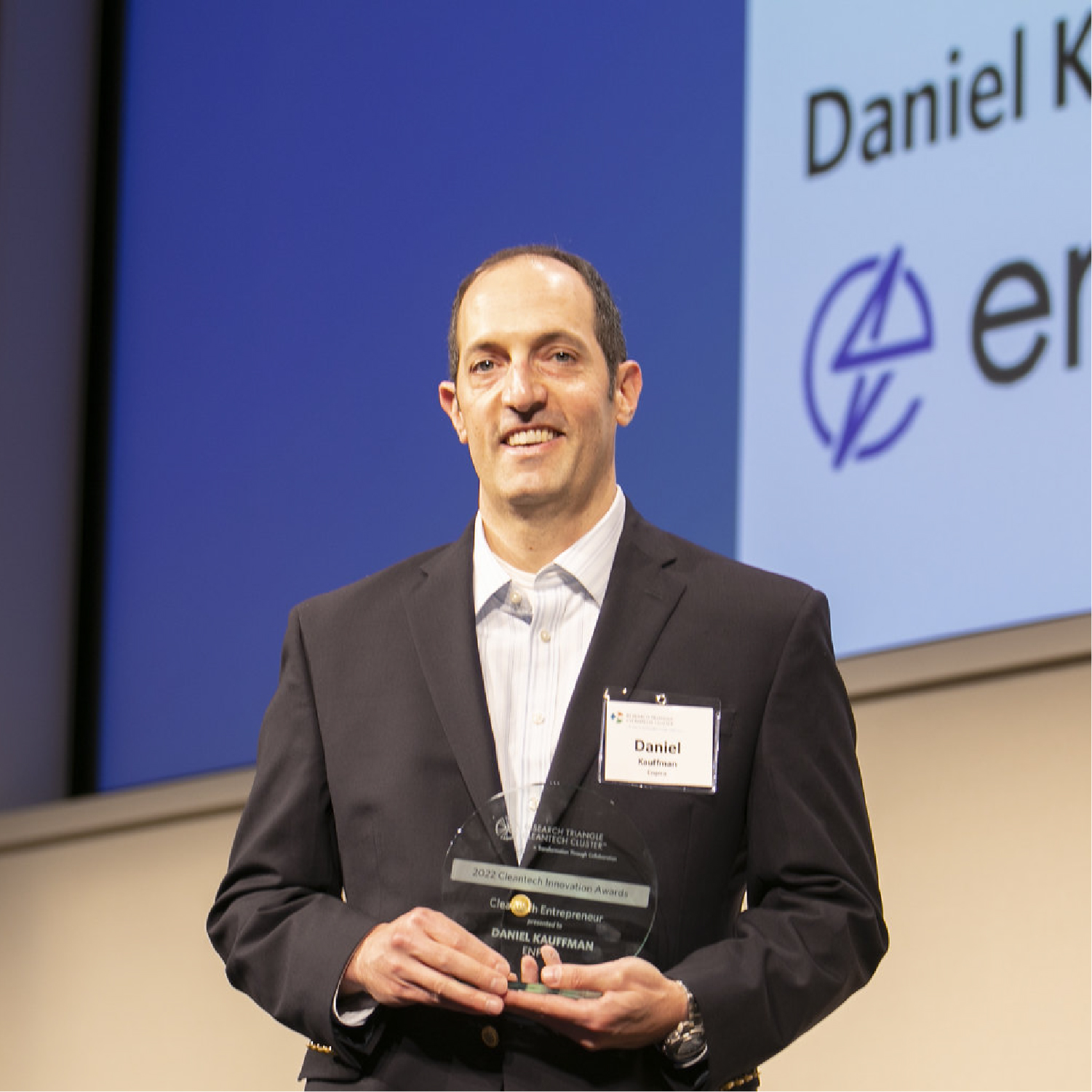 December 14, 2022
Durham, NC - Enpira, a cloud-hosted energy analysis software and solutions provider, is proud to announce that its Founder and President, Daniel Kauffman was awarded the Cleantech Entrepreneur Award by the Research Triangle Cleantech Cluster (RTCC) at the 2022 Cleantech Innovation Awards, a ceremony held on Wednesday, November 9th in Cary, North Carolina.
Held annually, the Cleantech Innovation Awards recognize the people, organizations, and initiatives that are driving cleantech innovation, creative deployment solutions, and workforce development throughout North Carolina and around the world.
Enpira's software platform enables electric utilities, building portfolios, and local governments to better manage energy use. Enpira transforms utility data into actionable insights that enable clients to save energy, reduce peak demand, engage customers and stakeholders, and enhance community sustainability. Under Daniel's leadership, Enpira has partnered with organizations to help identify efficiency opportunities with the biggest impacts, show improvement, save staff time, and help manage facilities more efficiently.
The Cleantech Entrepreneur Award recognizes an individual who has demonstrated innovation through the development of new technology or advancing existing technology that has the potential to disrupt traditional industries, create a cleaner planet, and improve the quality of life for people in North Carolina and around the world.
Enpira Founder and President, Daniel Kauffman shared ahead of the announcement:
"I am grateful for the recognition from local governments and the Research Triangle Cleantech Cluster. Working collaboratively with cities, counties, and electric utilities has enabled Enpira to develop unique and effective tools that meet our partners needs and enhance efficiency throughout our energy economy."
Daniel has led the development and growth of Enpira since its founding in 2017. Based in Durham, NC, Enpira has become a leading innovator providing utility data solutions to cities, counties, school districts, efficiency programs, and cooperative utilities across North Carolina and around the country.
Cleantech Entrepreneur Award winner and President of Enpira, Daniel Kauffman is available for interview upon request.
Media Contact: media@enpira.io
For more about Enpira, please visit enpira.io